---
---
The HexOne Buffer Tube is a CNC machined from USA certified 7075 T7 billet aluminum. These HexOne™ Buffer Tubes feature a new Hex design and include machined scallops that add style to this Heavy duty and extremely rugged upgraded component.
Perfect for 300 BLK or 5.56 NATO. The HexOne™ undergoes a rugged additional surface tumbling process that toughens the outer edges and surfaces yet leaves everything smooth and snag free.
The HexOne Complete Buffer Tube Assembly (HexOne-C) partners our enhanced buffer spring, billet aluminum Hexagonal buffer tube, Mil-Spec end plate, Mil-Spec castle nut and Mil-spec carbine buffer. The lower slot is machined to accept all Mil-Spec end plates and sling mounting accessories.
Diameter: Edge to Edge OD: 1.4in. Flat to Flat OD: 1.25in.
Fits Mil-Spec and Billet lower receivers just like a standard Buffer Tube!
This model of the Hex Tube line (HexOne™) will not accept the Pistol Brace. Simple, sleek and tough as hell!
CNC-MACHINED 7075 T7 CERTIFIED US MADE BILLET ALUMINUM HEXAGONAL PISTOL BUFFER TUBE
Tube is designed to fit Mil-Spec carbine buffer and spring.
HARD-ANODIZED MIL-SPEC TYPE III BLACK FINISH
Finish adds durability and visual appeal that ensures reliability against component wear.
MACHINED LOWER SLOT
Slot offers maximum compatibility by accepting all Mil-Spec end plates and sling mounting accessories.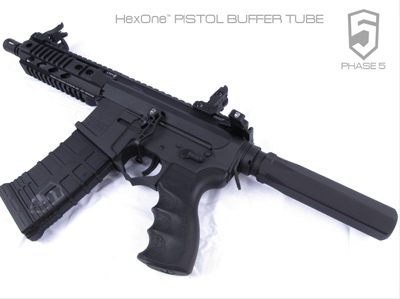 ---